Associations
Executive Building Services is a proud member of the cleaning industry associations listed below. Membership in these associations demonstrates our professional commitment to quality and helps us stay on top of what's happening in the industry. We attend yearly conventions and seminars, and subscribe to the trade magazines to keep up to date on cleaning techniques, personnel issues, ways to cut customer's expense, and much more. Our memberships give us a competitive edge, so that we can bring you the quality and service that you deserve and expect.
Executive Building Services is also a member of the following Chambers of Commerce in Florida.
Building Service Contractors Association International
BSCAI, founded in 1965, is a trade association of the building service industry with members worldwide. The association provides educational programs, publications, video training programs, seminars and networking opportunities, all developed specifically for the building service and security contracting industry.


International Sanitary Supply Association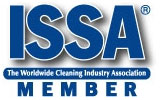 ISSA is the worldwide cleaning industry association, offering the industry's largest cleaning shows around the world; a vast array of educational videos and resources; networking on local, national, and international levels; industry management standards; legislative and regulatory services and industry news specifically focused on the world's cleaning community.


The Janitorial Store(tm)

It is an online community of janitorial business owners who are serious about building a more professional, customer service oriented cleaning business. The discussion forum is packed with extremely helpful, real world advice and tips straight from successful cleaning business owners. The community provides members with all the tools and resources needed to achieve their goals of owning a business they can be proud of.